It started on one rainy day in August. I still remember the day that i 1st saw her. I just thought she wasn't the one for me. I had gone after other of her kind with more mean and killer looks. But then as they say "
Relations are made in heaven
". Relationships are funny things. Friendship, brotherhood, parental, children and marriages are quite sacred with all of us. But then there are some relations that go beyond all these, those that defy common sense. those that just start with nothing in common, but become the most endearing of relations. We all come to a stage where we can never tell why we are in love with someone/something. We just love them for what they are, for being there when we need.
That what was between me and my Libero. Now i know what you all might be thinking; "Why is this guy being so senti about something like a bike?". I just can't tell why i fell in love with something as inanimate as my bike. Maybe its coz that was given to me at a time when i was in a new phase of my life. The years that i spent in college were just amazing. All the days of fun, laughter and enjoyment were spent with the bike with me. I really pushed it to the limits and it had resulted in 1 major accident and a few minor one's throughout the 3 years that i had been riding it. It was the 1st ride that got me to break the 3 digit speed barrier.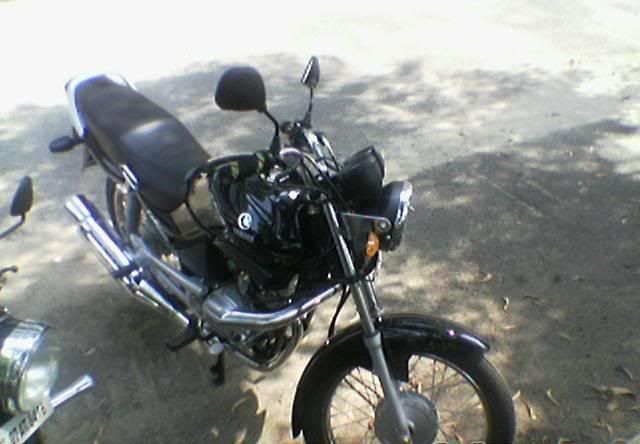 Unfortunately these are the only pictures that i have of my bike.
(That's my house compound in the BG, leave the foliage unnoticed)
So coming back to the day i saw it for the 1st time. I was pretty excited and was really very very happy with my dad for giving me a bike of my own. It was late evening by the time the bike was given off from the showroom and i drove it home. The very next day i drove for 60 kms around the city, in the by pass, near the beach almost anywhere i could go. The service engineers were always surprised at the small intervals in which i used to show up for getting the bike serviced. It was a workhorse which i had used in all possible conditions and it had never let me down. I can still remember the numerous instances when i had a smile on my face beating another bike in a street duel. It was always a heart-warming feeling when i got to beat bikes with higher power and engine capacity with this steed of mine. I drove it for more than
50,000 kms
in the last three years and never have i been troubled by a major problem.
In India, Yamaha scripted a success story with a sporty two-stroke single—the
RX100
. Memories of this torque monster still strike distinctive chords for many an enthusiast that learnt the joys of riding, milking its indestructible engine for all of a then staggering 11bhp! To many the questions of what went wrong and where, remain unanswered. Now am not saying that Yamaha came up with the Libero to satisfy all those ambitions. As far as i know Libero was one bike that had the punch of a Yamaha and the efficiency which could give a chase to the Hero Honda's age old philosophy of "Fill it, shut it, forget it". The bike gave me excellent thrills and a pretty decent mileage for the speed that i drive at.
It was a companion that gave me company during the lonely evenings at the Shanghumugham beach or the fast drives from college till the numerous theatre's in city to watch films with friends. It is one inanimate object that i gave up with a lot of emotions.
Thank you my faithful steed .. i'll never forget our rides together.
You`ll Be In My Heart