Long since i posted something in the blog. I was contemplating whether to post about something very significant that happened to me in the last few days, or whether i should wait for some more days and then let you all know what the result of the whole ordeal was!

Well i couldn't stop myself till the results are out so here i am with my travelogue of my trip from Thiruvananthapuram (Tvpm) to Pune. First of all for those few who don't know i went to Pune on the 27th of Jan for attending a GD/PI(Grp Discussion/Personal Interview) for admission to the class of 2009 at
SIBM
,Pune. I was pretty excited when i got selected by
SIBM
, coz that's my first and only call for any MBA course. It was a long awaited result and it was a relief after many dismal performances.

The
SNAP
result was declared on 8th Jan i think, not sure! Anyways it was after CAT which came on 2nd Jan. I still remember how bad it felt when i didn't qualify for JMET, a paper in which i had done pretty well! But i can't even view my scores now! I wasn't expecting a great score from CAT and same was the case from IIFT. So when the SNAP result came on 8th Jan, i had to run to get a SIBM form, coz it was the only symbi institute that was still open for applications, even after the snap results came. I got hold of the last available form in the city and posted it on 9th and it reached their before the 11th Jan deadline, Lucky me!

So on 17th Jan the short-list was put up in the SIBM website and i was happy to see my name with a Congratulations and not a "We regret to inform you.." crap! The date for the GD/PI was 30th of Jan and i didn't have many days left. I went and booked tickets for my journey after i checked their availability on the internet. The regular Mumbai train via pune was the Kanyakumari Express which was unfortunately booked to capacity till 5th Feb. So i looked at my alternatives and found two options through train and one option of flying to Mumbai. The flying option was dropped straight away, simply coz my dad wouldn't be able to afford so much money for just a GD/PI. So the other two options were:


1) Either to reach panvel in Netravati express on 30th morning 10 am and travel to Pune
2) Reach Pune in the Mumbai Express on 28th at 430 in the evening, stay their for 2 days!

I chose the 2nd option since Netra was also not having many free seats and it proved to be a good choice! The only problem was that the train left Tvpm at

3:45 AM

, that proved to be a minor problem since i am used to be awake till 2-3 AM everyday. So i brushed aside those problems and booked my tickets.

For the return journey i selected the Netra which was through the
Konkan
route, which was supposed to be a route with great scenic beauty and so i got home on 18th with two tickets for my to and fro journey.

Till 27th i was preparing eagerly at TIME and had a good time their with my friends, old one's and some new one's. It was great to meet so many people from different backgrounds and it was really fun to fight it out in the GD's and case studies that were held almost every other day! Due to the very helpful TIME Tvm director, i got myself accommodation @ Pune for the two days i was staying their with a student of SIBM itself. It was a favour whose value i realised when i stepped out from the train at Pune station.

I didn't sleep on 26th night and was online till 2 AM, posting about my plans in
PagalGuy
and telling to all my friends in
orkut
and others through messenger that i will be out of town for a few days. At 2 AM, dad came and knocked on the door and told me to get up. I went and opened the door and told that i will be downstairs in 30 mins. I got down at 2:45AM and mom had prepared food for the whole day for me. It was in a polythene cover and i had my clothes and stuff in a suitcase. Carrying all this i went with my dad in the dark night and reached the Central Station at 3:15AM. The train was in the 3rd platform and i slowly walked to the coach along with my dad rolling my case behind me. It was a different world at the station. Till the station the world was still asleep. But at the station the lamps were lit like it was ready for welcoming a bridegroom's party and their were many people running around carrying luggage and coolie's screaming and so on!

I found my seat in the S1 coach and it was almost at the middle of the train. The seat was 6th in the coach and was adjacent to the door. The train looked filthy from the start and was reeking with the smell of urine from the toilet that was also adjacent.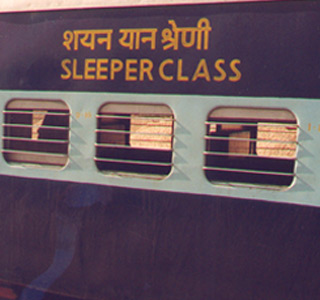 The coach was literally empty except for me and another guy in the middle of the coach. It seemed not many knew that such a train even existed. Me and dad put my case on the upper berth and then had a coffee each until it was 3:40 when slowly the brakes were released and we felt a slight jerk. Then dad got off the train and for the first time in my life i was going outside Kerala on such a long train journey and it was almost 10 years since i had a train journey outside Kerala. It brought back old memories of my childhood when we used to come to Kerala during the vacations in Kerala Express from New Delhi till Tvm. It was fun in those times to have the train ride. I had completely forgotten how it felt to have a train ride for so long!

The train started off from Tvm and i was all alone and tried to catch on some lost sleep. But i had to be awake for two reasons:


1) Parents had told that i should be careful with my luggage and shouldn't leave it unattended coz ther's a huge risk of it being taken away by some nice men.
2) I had to get a extra-curric certificated from a friend of mine who did me a favour by agreeing to be at Varkala station at 4:20 AM.
So due to these two reasons i was awake and tried to read some magazines that i had brought along. The train chugged along slowly at first and when it crossed Pettah, it started picking up speed and i felt a bit of relief from the nauseating smell of the reeking toilet, due to the fresh morning breeze that was coming in through the windows!

The train reached Varkala at the scheduled time and i went and stood on the door waiting for my friend. He was there as he had promised and wasn't feeling that good to be awake at that time of the day, but was very polite due to the presence of his brother and some other passengers. At that station a young guy entered the train and kept all his bags and stuff on the berth and i was looking at him with a bit of suspicion at first coz he was keeping all his stuff on MY BERTH!

After this he asked me if the TTR had come along, i told NOPE. He then told me that his ticket was on RAC and he had to find the TTR to check if he has a seat. So he went looking and finally got the info from someone that the TTR would enter at Kollam or Ernakulam only. We started a conversation and he basically sounded like a good guy to have along on a lonely journey. He was also going to Pune and asked why i was going there. When i told i had a GD/PI, he asked me "Where, Symbi??". I replied in affirmative and then he said that he was also doing his MBA at Pune, but in a different insti. We talked until we reached Kollam and then both were feeling quite sleepy and so i slept while he was looking for the TTR.

Next thing i remember is getting up at Ernakulam South station at 7:30 AM. Got up and washed my face and had my 3rd coffee of the day! I don't prefer the coffee given in the train, but still just for the sake of it had it! At the station i got out and bought the day's paper and then occupied myself with it, when my friend was looking for the TTR to know his seat. I had my breakfast which i had brought after the train left the station and then settled to the window seat and was watching the slow transition of city life on the sides to the relaxed farmlands of Trishur and Palakkad. At 12 noon the train reached Palakkad station the whole coach was filled! People were scrambling to get inside the train and since my seat was next to the door i saw the struggles to get in and suddenly the seat in which i was sitting had occupants too. It was a father-daughter-uncle trio who were also off to Pune coz the girl had got a job there! I settled opposite and we had intro's. Then as the train left Palakkad i had my lunch. My mom had thought that i will be with friends so she packed along food for 2-3 people and i had a tough time eating so much!




After leaving the station the train went through the bridge across Bharatapuzha, i was sad to see not much of water in the RIVER, just barren sandy riverbed and a sorrowing river flowing with what's left of it! At about 1 PM i left the boundary of the State of Kerala! Entered the land of temples-Tamilnadu! It was a good experience to see brick lined houses, all small box shaped one's, unlike the gigantic structures that we see in Kerala. Then came the scenic wester ghats on the way. It was beautiful to see the misty mountain caps even in midday! Such a heart-warming experience!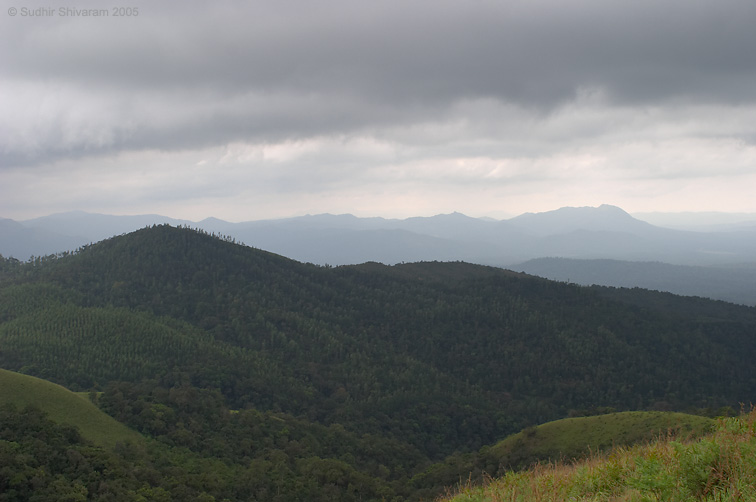 Then i tried to catch some sleep after the heavy lunch and was sleeping until the train slowly pulled into Erode Station at 3PM. The station was big and i bought some water and had another coffee. The train remained at the station till 4:30PM and it was boring after some time. Just as we left Erode station we crossed the Kaveri river that's in much news now! I was now looking out into the picturesque landscape of Tamilnadu with fertile fields and small rivers making their way through rocks and cliffs. I even saw some small boats, the kind that we see in the film Roja and some other tamil films! It was a nice scene and i wished i could be in one such boat and float down the river slowly. At 5:30 PM we reached Salem, the next big station. Here i saw a slight shift from the fields to mines and mineral factories and i saw a big cement factory of ACC Cements. Thereafter it wasn't that good, i mean it might have been good to watch, but i got bored with the view outside and so i started to read something from my previous year's papers in mechanical engineering. In the evening i had another coffee and had a small snack of 2 vada's and chutney. Tried to sleep, but then how long can one sleep?? The rocking motion of the fast moving train did give the effect of a rocking cradle and at times it did help in getting asleep. I was chatting a lot with the family sitting opposite and also with the other guy who got the RAC converted to a seat in the next row to mine!

At 9 PM in the night i got a message in my phone, welcoming me to Karnataka. So i think that's when we got in and by 10-1030 all around me were starting to pack stuff and sleep. So i had no other go than to sleep at 1030. It's been AGES since i slept at 1030. It was not that comfy sleeping in the upper birth, but then i had no other go! I slept with some difficulty and got up at 5:30 AM. That's when i got a message in my cell saying that i have entered Andhra Pradesh. That's a fast ride, isn't it!

After brushing i had my 1st coffee of the day and then went and stood at the door to witness the sunrise. It came very late and i was fedup by 6:20. Finally sun had risen at 6:45 AM. It was a beautiful sight. The clouds were all having a splendid effect to the glory of the sun rising from it's slumber!


At 8:20 AM the train stopped at a station called WADI. There i saw the best marketing campaign ever. It was by a vendor selling Bread and Omelette. He was making the omelette right in front of our eyes and so there's no doubt about how good it is. He was standing on the platform with his small cart and was shouting Bread/Omelette at the top of his voice. It was a good business and am sure he made a decent amount at Rs 10 for 4 slices of bread and one egg omelette. I had one too! It was hot and was a good way to start the day! I was still very far from Pune and was having a doubt in my mind if the train was running at the right time or not! We confirmed this info also from the vendor. It seems he knew a lot about the timing than us. He said that the train will be in that station for 30-40 mins and will go at 9 only as it was EARLY! Now that's a first for me, Indian Trains running ahead of schedule!

By 12 or so we entered Maharashtra and i started to get eager. I called my contact in Pune and told that i will be in Pune by 430-5 and he told me to call him once i reach the station. The train raced along and i reached Pune at exactly 4:30PM-the scheduled time! From the station the guy whom i had met on the train from Varkala helped me to get a auto and i went to the place where my contact Nikhil was supposed to meet me! The auto's fare meter had startled me when we started coz the fare began at Rs 1. When i reached the point of getting off, the fare was Rs5.40 and he asked me to pay Rs 40. Since we had travelled for about 9-10 Kms, i calculated the fare from the rate that i pay at tvm and found that Rs 40 for a 9-10 km ride is pretty ok ( i don't know if i was foolish to pay that much, but then i don't use auto that much!)

And that's how i reached Pune on 28th of Jan at 4:30 PM.